Buck down thanks to The Deer Whisperer Guide Services!
Sunday was the day for me! I went out for an afternoon hunt, and pops even decided to go with me last minute since I would be in a blind.
The day started nice, almost too nice, with weather in the 60's. So I took some pics of the birds…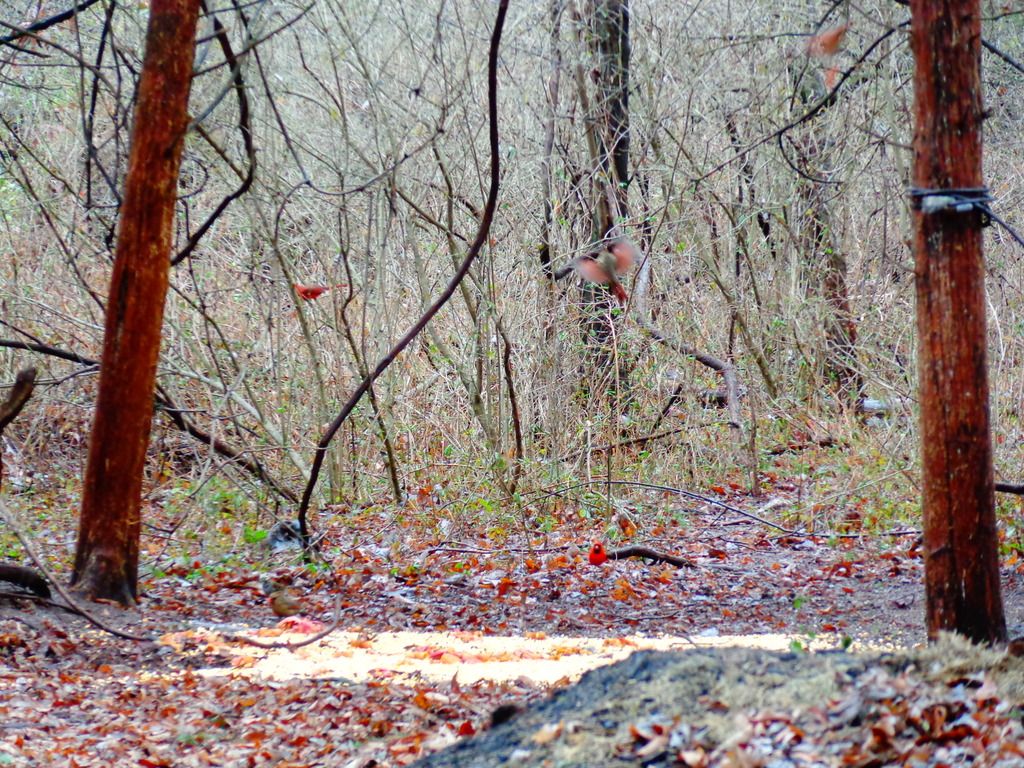 And of course the squirrels too...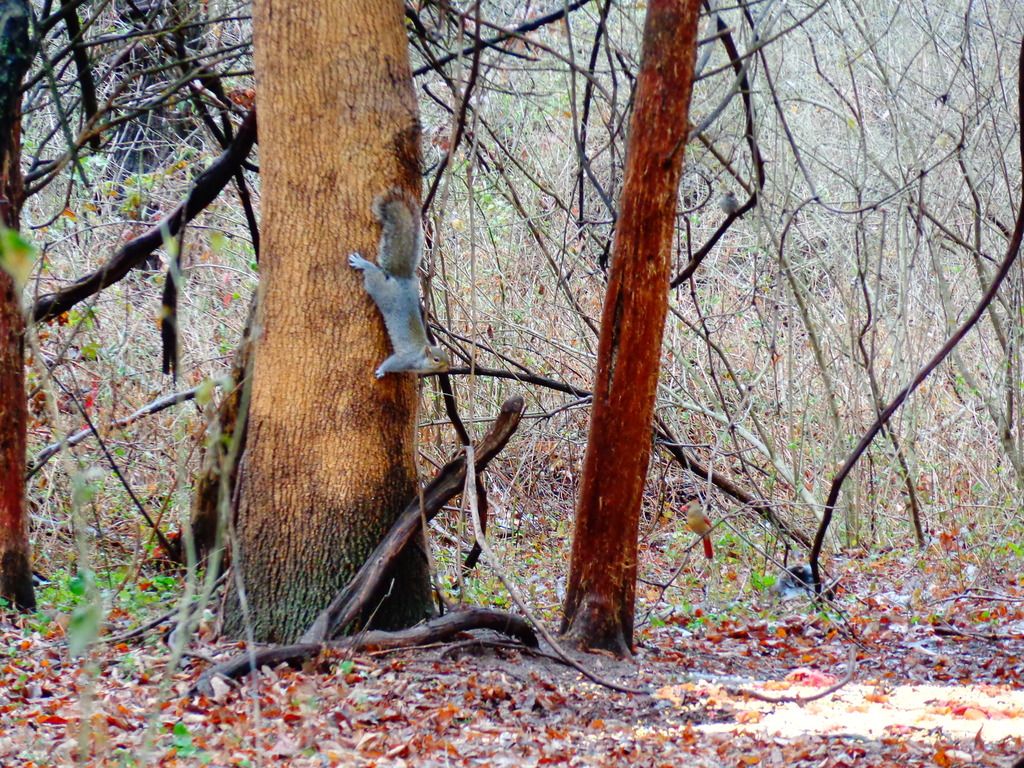 Earlier than I expected a doe came out, followed by a spike a few moments later. After a few minutes the doe looked at the woodline, got spooked, ducked and ran like heck. And then I hear my dad whisper "shooter!" Sure enough I see antlers at the woodline, and this buck heads right to us!
He stands directly facing me forever.... Well more like twenty-ish minutes. No shot! He turns slightly and is quartering hard to me... Still no shot! Talk about nerve racking!
Well he eventually starts to turn and I had this feeling he was going to bolt, as he was a little edgy, looking into the woodline. Well he starts to make a turn and I was able to make the shot at the exact right moment while he was turning! A broadside shot!
He does the donkey kick and bolts. To my complete disbelief, this buck leaps into the air and gets stuck in the tree limbs and vines several feet off the ground!
He was completely stuck and tangled in the tree, in the air! All I could think was "we are going to have to get this buck out of a tree!" He eventually breaks loose and runs. So we wait, and I hear my dad say "perfect shot, I heard him Drop!"
So then I calmly call The Deer Whisperer to tell him I made a shot! He may tell you I was a raving lunatic, but it's his word versus mine!
So after a few minutes we get out of the blind to look for the bolt, and it was exactly where I expected it to be, covered in blood and hair. But no blood anywhere! We look at the path where the buck ran and still no blood! It did rain before my shot, so I think any blood was pretty diluted. So we wait a little longer and off we go down the trail to look for blood and still nothing! We eventually find a little bit of blood and start to track. A few minutes and forty-ish yards later my dad says "there is your buck!" Talk about relief!! And an amazing day! Here are the pics!
This is my biggest buck to date!!
Prior to the shot. Photo credit to The Deer Whisperer
After the shot.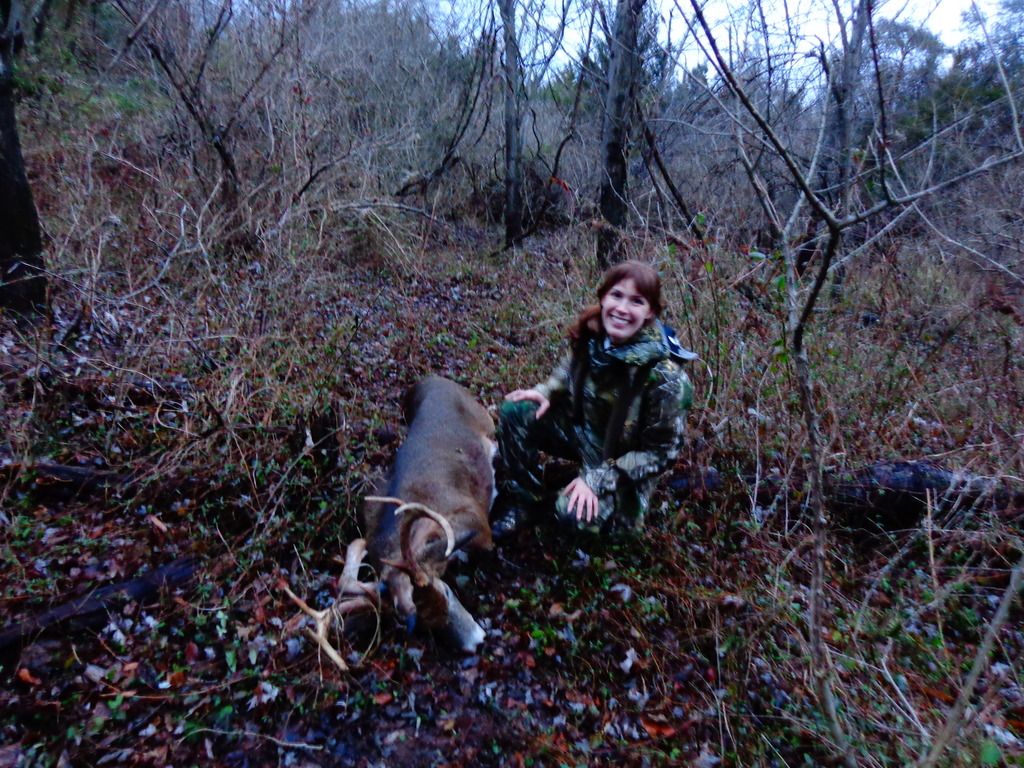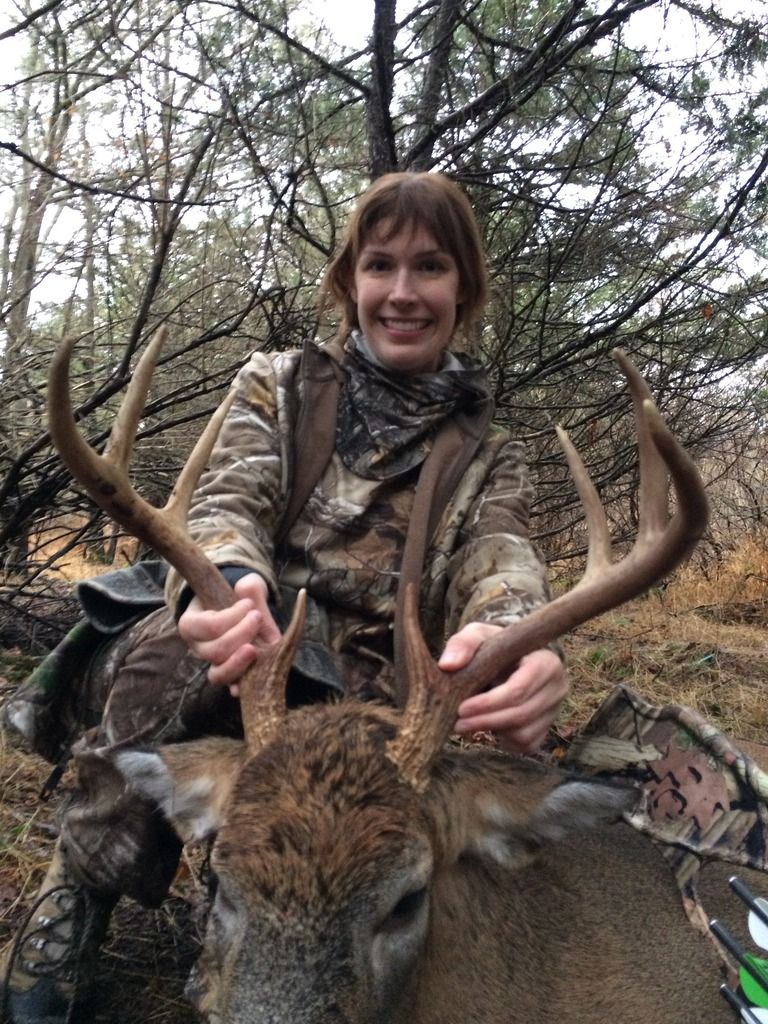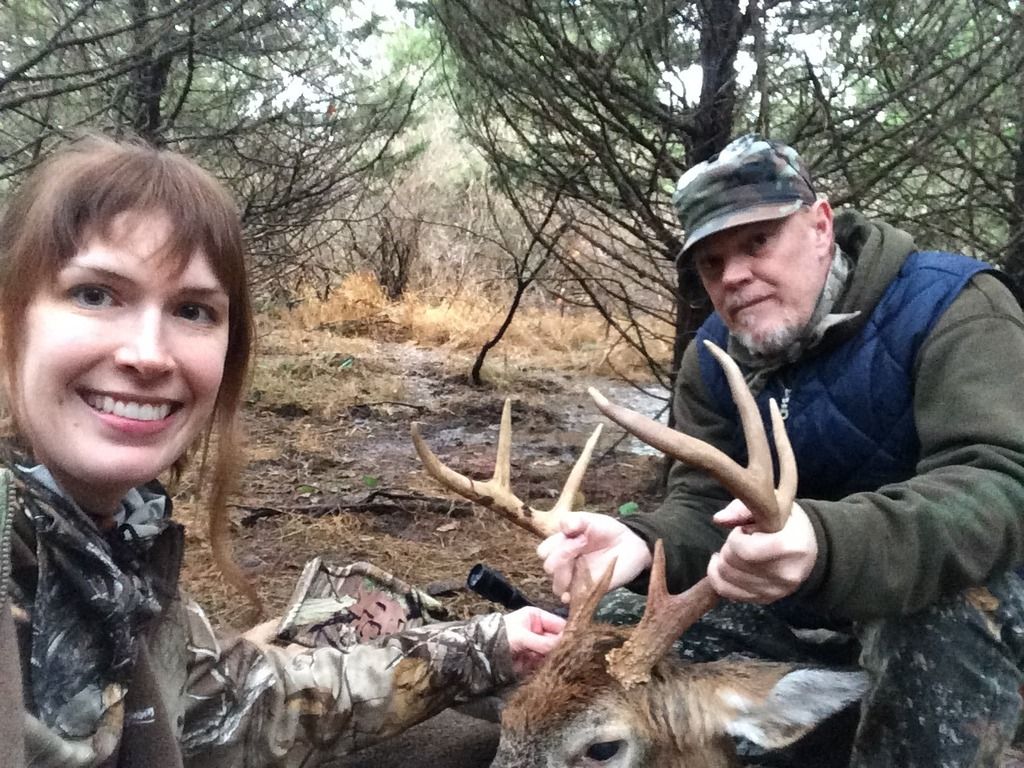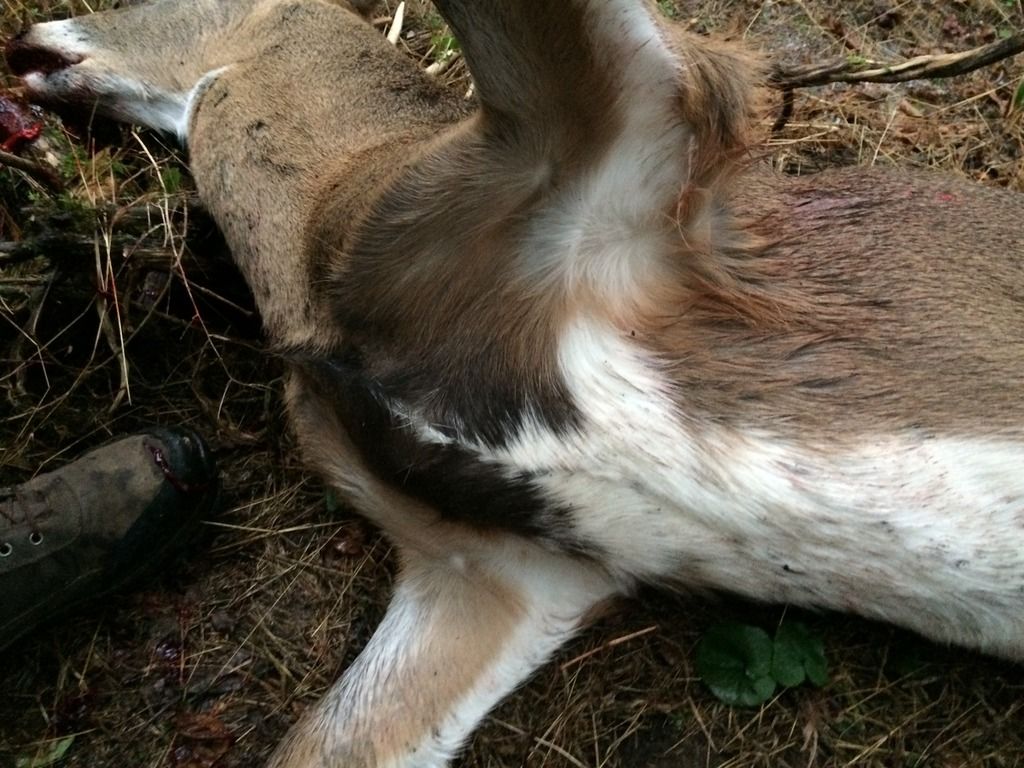 The shot, entrance side. Double lung!
Hanging at my uncles taxidermy shop for the night.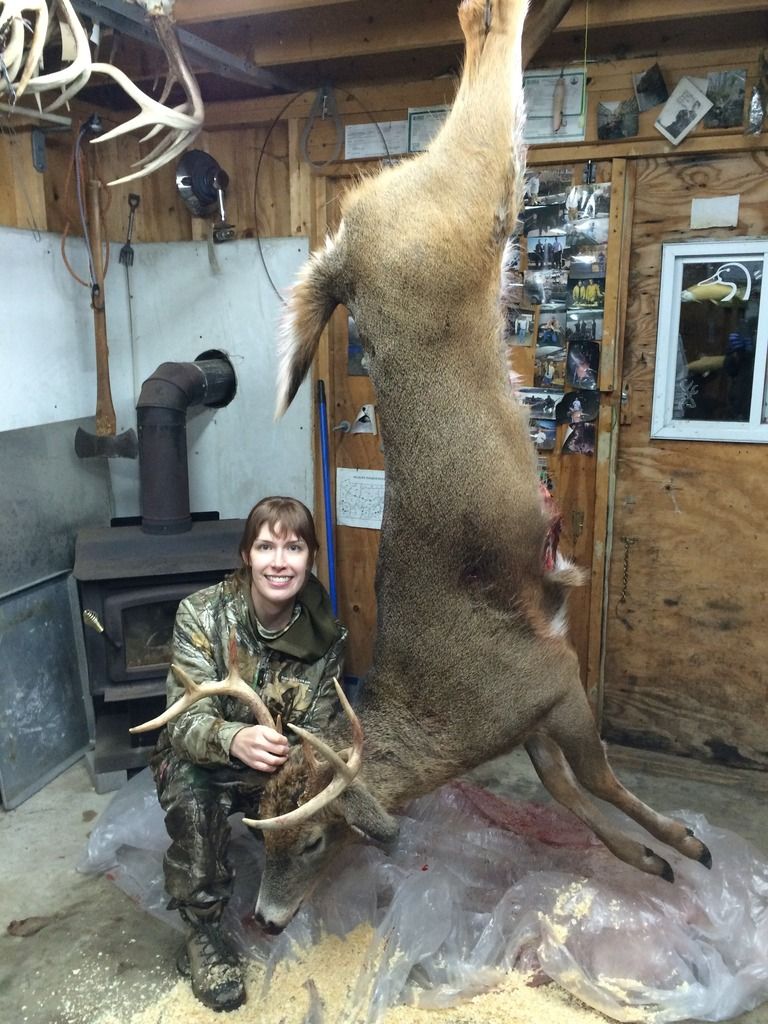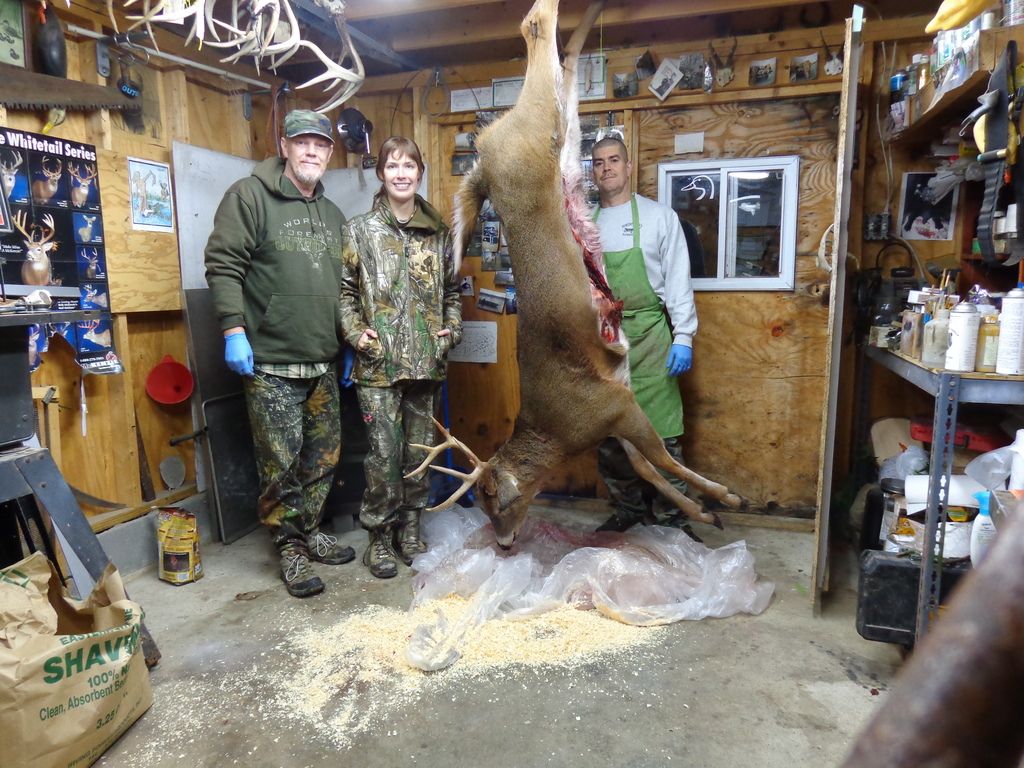 And the next day, still contemplating full or euro mount!
Huge THANK YOU to The Deer Whisperer for this amazing buck! I would have been buckless Nicki if it were not for him. Poor guy had to tolerate my endless "can I hunt today" texts, lol. And of course my dad who helped! Very cool he was able to be there and see it all happen!
What an awesome hunting season! I saw so many cool things in the woods this year, but this was obviously the best day of all!
spike
Posts: 68
Joined: Fri Aug 22, 2014 5:34 pm
---
6 pointer
Posts: 444
Joined: Wed Sep 19, 2012 1:36 pm
Location: South jersey
---
Great story and great buck!!!! Tony is the most unselfish person I know in trying to help others, nice job DW!!!
No question you have to mount that buck!!!
Very happy for you and your pop, congrats!!
A country boy WILL survive! Country living isn't a way of life..it's the ONLY way to live life!!

Pro Staff Covert Trail Cameras
http://covertscoutingcameras.com/products/cameras/
President Tri-County Longbeards
http://www.christianbowhunters.org/
Droptine
Posts: 5945
Joined: Thu Aug 23, 2012 1:02 pm
Location: Pittsgrove, South Jersey
---
Great buck! Nice shot Cheviac! Congrats to all involved!
Droptine
Posts: 3376
Joined: Thu Oct 04, 2012 7:43 pm
Location: Philadelphia
---
Nice!!!!
The word harvesting in for vegetables!
I kill things!

#Teamstickbow#Stickbowkilla#
Droptine
Posts: 4942
Joined: Sat Aug 03, 2013 8:08 pm
Location: zimbabwa
---
Congrats on a real nice Buck. I know your proud of her 55. DW you are a good guy for helping other to take some nice Deer.
12 Pointer
Posts: 1553
Joined: Sun Nov 18, 2012 6:35 pm
Location: Philadelphia
---
Great story and an excellent buck .. good work
y buck
Posts: 266
Joined: Sat Dec 07, 2013 9:40 am
Location: Atlantic County
---
Great write up Niki! Let's just say you were a tad excited on the phone and it was great to hear how excited you were that it finally came together! hearing your excitement is what its all about! Congratulations!! and goodbye texts messages!
"Can I hunt today'?" if I don't answer in two minutes " Hello!! Can I hunt today!!??" hahaha
You put in your time and hunted hard this season and because of it, you were rewarded with a great buck.
Very well deserved deer and great shot.
Congrats again!
Droptine
Posts: 3257
Joined: Thu Sep 13, 2012 5:31 pm
Location: Central NJ
---
Great job!! Congrats! I loved the write up!!

PS: Nice job DW! Very nice!
8 Pointer
Posts: 645
Joined: Fri Mar 18, 2016 2:55 pm
Location: Port Norris, NJ
---
Nice story and pics. Congrats!
Button Buck
Posts: 45
Joined: Fri Sep 16, 2016 9:43 pm
---
---
Who is online
Users browsing this forum: No registered users and 1 guest