Well as many of you guys know I have been trying to get my son on a deer since last year. We had plenty of opportunities but he just was always eaten up with buck fever. Well I set out this year to devote all my time into getting him a deer before I try myself. He missed a small doe a few weeks ago with the crossbow. In his defense she ducked pretty hard and he just grazed her back. Surprisingly  he took it very well. So that gave me the feeling that we were gonna get it done this year. He had gotten past some of the buck fever long enough to get off a shot. Well last week I took him to my farm to shoot the muzzleloader a few times and prove to him that it didnt kick. The recoil was all he was worried about. I shot his thompson center triumph in with 100 grains of triple 7 and a 250 grain shockwave. I then loaded it it with 1 50 grain pellet of triple 7 and let him shoot it. This proved to be the best thing I could have done. He loved it. I think the combination of the smoke and the big boom with no kick was exciting to him. He shot it several times and he was ready to go deer hunting. He even jokingly said " DADDY, they wont duck this one " I laughed  like crazy with him and we went home to tell mommy. 
Friday came and he and his sister were off school for some reason or another. He was ready to go and on my butt all day. I knew it was gonna be hot but we were gonna go anyway lol.  We got in the stand around 4:45 and ran a small doe off the corn when we got there.
I told him she would be back and 10 minutes later there she was.
We talked about shooting her and how I think he should wait for a bigger one and he agreed. We did see another small one about 30 minutes later and he agreed to pass on it also. 
Then at around 6:40 I looked down the lane and between us and the corn I saw a big doe stick her head out. I quickly got him behind the gun and cocked the hammer back while stopping the deer with my mouth ( Maah ). She stopped in the middle of the narrow lane and then started walking. I again stopped her ( Maah ) and she stopped on the edge for a brief second. I started to tell anthony you better shoot her and all I got out was " you " BOOM!!! The smoke flew and I knew I heard a smack when the gun went off. We talked about the shot and he told me he was on her arm pit just where I told him to shoot. We have her 10 minutes and decided to go look for blood and if it was good we would track. If it wasnt we would give her more time. After a few minutes I found blood and a lot of it. There was some cor nin it so I wasnt sure. The blood trail was crazy and all in the trees 4 feet up. I decided to track her right then. A short 60 yards later I was crying and hugging my little boy over his first deer. I am surprised I didnt break his ribs *lol* We sat in that spot and celebrated for 30 minutes before dragging her out. I am one proud dad. I cant wait to feel this again with my daughter. Man I love this stuff!!!!!!!!!
​​​​​​​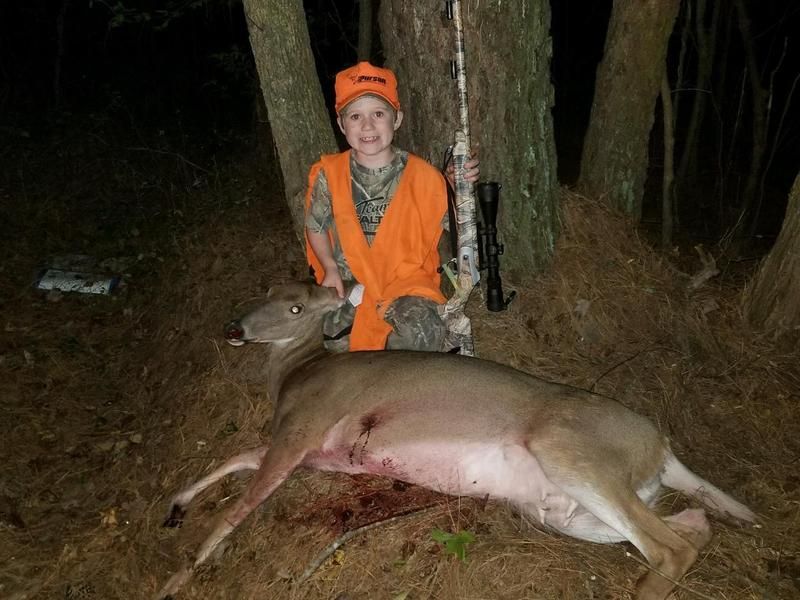 y buck
Posts: 126
Joined: Wed Feb 03, 2016 1:43 am
Location: Lewes delaware
---
Awesome write-up and congrats on your son's first deer kill .I remember the day my boy shot his I was so excited..great work dad
Droptine
Posts: 5492
Joined: Thu Apr 04, 2013 8:10 pm
---
Congrats to you and your boy what a priceless memory. Looks like you have a hunting partner for life. Good write up too.
12 Pointer
Posts: 1567
Joined: Sun Nov 18, 2012 6:35 pm
Location: Philadelphia
---
That my friend is what it is all about!!! Congrats to you and your boy!!! Wait til his first buck.
Very happy for you
Going on our annual Buck Retreat camping trip and will be bringing my 7 year, New Germany doesn't allow him to hunt but he will be sitting with me.
Hopefully God willing we will at least see some deer.
A country boy WILL survive! Country living isn't a way of life..it's the ONLY way to live life!!

Pro Staff Covert Trail Cameras
http://covertscoutingcameras.com/products/cameras/
President Tri-County Longbeards
http://www.christianbowhunters.org/
Droptine
Posts: 5963
Joined: Thu Aug 23, 2012 1:02 pm
Location: Pittsgrove, South Jersey
---
Jeff thanks so much for the recap . crazy fun trip with your Son very sharp photos
Keep the tradition alive. Take a youngster hunting or fishing!
Droptine
Posts: 5195
Joined: Thu Aug 23, 2012 9:38 am
Location: Washington Crossing, pennsylvania
---
Thanks everyone. It was definitely a day we wont forget. I am still smiling about it. Now I am hoping to get him a nice buck.
y buck
Posts: 126
Joined: Wed Feb 03, 2016 1:43 am
Location: Lewes delaware
---
Well season still on. Nice job on the doe


Sent from my iPhone using Tapatalk
earse the flock boys
12 Pointer
Posts: 1329
Joined: Mon Nov 19, 2012 3:45 pm
Location: norwood,pa
---
---
Who is online
Users browsing this forum: No registered users and 4 guests